Aaah, my laundry room. Easily the girliest room at my house. I love it, and was completely inspired by Centstational Girl's Laundry Room Makeover. Here's how I brought our laundry room from "blah" to "fab:"
Painted walls: We painted the walls a very pale sea green color that is not much darker than white.
Removed rail and added additional shelf: With the tips on installing a shelf with some supports from this same blog post from Centsational Girl, we removed the existing hanger rail, and added an additional shelf above the washer and dryer.
Painted cabinets and added hardware: Just like we did with our bathrooms, we used the Rustoleum Cabinet Transformations kit to paint the cabinet and shelves white (I am not a fan of the builder-grade standard maple cabinetry that we had all over our house). These kits make for a super easy weekend project that, while it does include several steps, takes a lot less elbow grease than the traditional way of stripping and repainting cabinets. The hardware we added to the cabinets was from Target.
Chandelier: We repurposed an old, brass chandelier by removing the jewels and lights, and spray-painting the brass white. When dry, we re-installed the lights and jewels, and voila! Just like new, and what a fun, glamorous touch for a laundry room!
"Wallpaper:" Another knock-off from the brilliant Centsational Girl, I added a coordinating scented shelf-liner from The Container Store to the wall between shelves, and between the bottom of the cabinet and shelves and the washer and dryer. I applied it with double-sided tape. Not only is it pretty, but you can re-spray it with the same scent (also available at The Container Store) to keep it fresh over time.
Art: I purchased vintage magazine ads for laundry detergent online, and framed them in my favorite Ribba frames from Ikea.
Rug: Nolan Rug from Crate and Barrel in teal.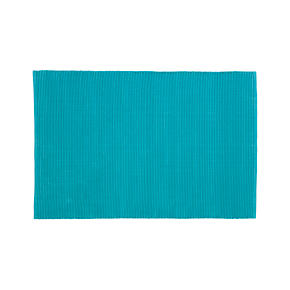 Photo Source: Crate and Barrel
Other accessories: Baskets from Ikea, chotchkies on shelves are misc. antique store finds, white two-compartment hamper from Target, ironing board from Target, rolled wash cloths from Ikea.