10 years ago today, I married my best friend, my life partner, and my lifelong epic true love. After all this time, I had never gotten around to documenting my wedding planning here on the blog. I decided that at the 10-year mark, it was about time (after finally posting my Old Hollywood-themed engagement photos the other week). I am always so inspired by others' creativity online, and want to pay it forward in case it helps to inspire others. So today, I am sharing my wedding planning details.
The theme was driven both by our style, and also by the venue itself. We wanted a classic, Hollywood glam feel, but were also drawn to the rustic vibes of Calamigos Ranch in the mountains above Malibu. We ended up thinking of our wedding as "Katherine Hepburn goes on a picnic in the country." The colors were romantic and glamorous (black, white, red, and silver in satin tones), but the flowers evoked more of a textural, country feel.
Back when I was planning this wedding 11-ish years ago, we didn't have Pinterest. What we did have was The Knot, and most of the ideas and vendor recommendations that inspired my planning were from local message boards and the "planning bios" of other brides. Some of the girls I met through those boards are still in my life today, and are some of my best friends. A lot of the info I have in today's post is adapted from my old planning bio on The Knot.
First, I have a few highlights from the day itself. Then, keep scrolling for lots of detail photos, all my vendor reviews, and resource links. I hope you enjoy reliving this planning process with me, and I hope I can inspire some of you for your own special day!
Venue:
Calamigos Ranch Garden Patio and Main Dining Room.
Highly Recommend. Not only is Calamigos Ranch breathtakingly beautiful, but the service is incredible. Our contact was the amazing Erin, who really knows her stuff. She could answer any crazy question we threw her way, and was very willing to work with us and our budget for add-on items like the open bar, fabric draping, Chiavari chairs, etc. With her and the rest of the staff's years of experience, none of our unique requests (such as a signature cocktail menu) were a problem to accommodate. We felt very confident in being in her hands for our big day, and rightfully so, as I was pleased to see everything set up exactly as I wanted when I arrived at the reception. I also appreciated that the head waiter made sure we had passed hors d'eouvres during cocktail hour when we were taking our pictures. In line with other reviews of CR, you don't have to worry about the fact that they don't do food tastings, as the food is superb. And even though it was one of the hottest days of the year, the entire garden patio was shaded by the tall trees, so none of our guests baked in the sun.
Music:

Fiddlestix String Quartet. Highly Recommend. We booked them for our ceremony and cocktail hour. Margaret, our contact, was beyond friendly, helpful, and responsive. Besides the great service, they also have the best prices in town, and I am convinced there is no better value out there. They were even excited about the project of adapting the hubs' college fight song to play when the groomsmen entered. Cesar did an incredible job of adapting a marching band score for the quartet, and amazingly it still had the class of a string quartet wedding piece, while still having the cadence and energy of a college fight song. The guests (and we) loved it!
DJ Kelly (Kelly Costanza). Highly Recommend. We booked our DJ really late in the game and were very lucky to find DJ Kelly, who was extremely professional, and seemed to do everything he could to make us happy. At the wedding he was friendly and fun, but not cheesy. One of the most important things for me was that he acted as a "reception coordinator" to keep everything moving and flowing based on our timeline. Because of this, I didn't have a care in the world once the reception started, because Kelly kept it all going for us. He also made for a really fun night. The dance floor was packed the entire night, and by the end the whole place was dancing and singing together (young and old). Many of our guests said it was the most fun they had ever had at a wedding.
Flowers:
Michelle Brue – Flora by Fauna. Highly Recommend. We chose Michelle because she was the full package. I had seen great examples of her work on weddings that were of all different styles, I had heard exceptional things about her service (which she proved to us immediately), she had some of the best prices we have heard, and she really got what we are trying to do. It wasn't until talking/meeting with Michelle that we had the artistic vision for our wedding. And boy did she deliver! Everything was exquisite, and ready when it needed to be even with the limited amount of set-up time Calamigos allows vendors. I can not recommend her highly enough based on the combo of her talent, customer service, and prices.
Photography:

April Greer Photography. Highly Recommend. This has to be the best choice we made for our wedding (and we LOVED most of our vendors). We are delighted to have found April, whom we met at one of my friend's weddings. She and her fiancé Ray are an artistic photography team from Seattle (now located in Washington, D.C.). We were not only amazed by her creative vision, but also extremely comfortable with her from a personality perspective. In the end we did almost all of the packages she offers: e-pics, b-pics, wedding, and Mr. & Mrs./TTD. We absolutely adore our pics from all these sessions. We will cherish them forever, as they are truly works of art, as well as a most beautiful way to capture this special moment in our lives.
Videography:
LA Wedding and Event Videography (website no longer active). Highly Recommend. We heard about Terry Hanson from a recommendation on The Knot. His prices are fantastic, and his packages include a highlight reel as well as cool DVD features. We felt very confident with Terry, and loved that we had that confidence without paying an arm and a leg. He was great to work with on the wedding day, and was completely non-invasive. It was amazing how even being non-invasive that he manages to capture the day perfectly and even some special moments that we didn't notice that day. We were very happy with the final product, and just as happy with his customer service and communication the entire time. If you are on the fence about having a videographer, I say just do it. It was so nice to see our wedding come alive again after only having still pictures. We will cherish our DVD forever.
Cake:

Plusko's (permanently closed) – Wedding Cake. Highly Recommend. Once we tried Plusko's it was nearly impossible to consider anyone else. First of all, they were the friendliest and most helpful of all cake vendors we spoke with. Second, their cakes are delicious. Third, their prices can't be beaten. We got a four-tiered square cake that serves over 200 people for $525 including delivery/set-up. The price was so good that we opted for a four-tier cake (even though guest-wise we only needed three) to add the desired height. Plusko's also offers to recreate a top tier for you on your 1st anniversary for free so no one has to eat frost-bitten, year-old cake. One con with Plusko's for some is that they don't do fondant, so their design choices are limited. For us this worked out perfectly because my husband hates the taste of fondant, and because we wanted a simple cake anyway. Our only regret was that we were so busy during the reception that we didn't get to eat enough of this delicious cake!

Crystal Monogram – Cake Topper. Highly Recommend.

Hansen's – Groom's Cake. Do Not Recommend. I am really glad that I only chose them for my Groom's Cake and not my wedding cake. While Hansen's does make DELICIOUS and gorgeous cakes at a great price (I have used them before for cakes for other special occasions), their customer service is notoriously rude. They are actually rude to you every time you go in. Luckily when I went in to order my custom groom's cake, the service was better (I must have found one of the few friendly people there), and they did an amazing job making this cake from a picture I provided and a color swatch. The big issue (besides the customer service) is that the cake showed up 2 hours later than the end of the delivery window. As it was after store hours (we chose the last delivery window of the day), I couldn't even get in touch with anyone at the store to find out the status. It was extremely upsetting to me because it arrived at our rehearsal dinner 30 minutes into the party (and 2 hours late overall), and was a surprise for DH that I thought wasn't going to happen at that point. The anger and stress it gave me was a lot that evening, and (as I said earlier), I am just thankful I didn't have to go into that same stress at a greater extent if they were my wedding cake vendor.
Hair and Make-up:

Elli Abraham – The Cottage. Highly Recommend. Elli did both my husband and my hair for years. We trusted and loved him, so we gave him a chance with my hair and make-up for my e-pics and b-pics. It turned out amazingly, so we booked him for the wedding. Elli acted as my stylist for the wedding day, staying to touch up my hair and make-up as necessary, and even hanging out with me during portraits. He also did the bridesmaid and mother of the bride hair and make-up, and I loved that they all had a glamorous look that was still unique to them (as my bridesmaids all have very different looks). He even found some time to clean up Nik's neck before the ceremony. Since he was also my regular hair stylist, it was great that he could work my length and color towards what we would need for the wedding for the months leading up. I also recommend him for color in general, as he does amazing work for a less than your average Beverly Hills stylist.
Jewelers:

Beverly Hills Jewelers – Engagement Ring. Highly Recommend. My husband just raved about his experiences there with Nikki, who he has already recommended to several other people.
SN Queens Jewelry – Bride's Wedding Band. Highly Recommend. Quick, cheap, and easy experience in the downtown jewelry mart. No complaints!
The University of Texas Co-op – Groom's Wedding Band. Highly Recommend. As you may have noticed about us, my husband is a HUGE Texas Longhorn fan. No one that could ever meet him would ever doubt this, as it is such a big part of who he is. When we found this ring, we knew it was the one, and it was a great price too!
Attire:

RMINE. – Bridal Gown and Alterations. Highly Recommend. I got my gown from the Studio City location. Not only has is their customer service wonderful, but they also recommended I try on the dress that ended up being "the one." Jennifer really understood not only what I was going for, but also what would look good on me. I also got my alterations done there. While I am sure I could have found cheaper, it was just more convenient. Plus, Anna (the seamstress) did an amazing job of bringing the dress in everywhere (as I had lost 20 pounds since the purchase), and even threw in a little upgrade for me just to be nice (sewing the bra cups inside the lining even though I only wanted to pay to have them on the outside).

SimpleVeil.com – Bridal Veil. Highly Recommend. After trying on a $500 veil at the bridal salon that I liked, I was pleased to discover I could re-create the same veil at SimpleVeil.com for $60! With shipping, a storage bag, and hanging clip, I spent not even $90. It arrived really quickly too. One great thing I have heard about them is that they have a great return policy if you want to get two different veils to try with your dress, and return one.

Vera Wang – Bridesmaid Dresses. Highly Recommend.
eBay – Earrings and Bracelet. Highly Recommend. I got a fantastic deal on my 5 ct. CZ earrings from eBay. It also shipped pretty quickly. I was happy to find such a great selection on eBay for such a reasonable price after the earrings I wanted from White Aisle were out of stock.

Neiman Marcus Last Call Outlet (Primm, NV) – Shoes. Highly Recommend. Manolos are always really comfortable to me, so I was THRILLED when I found this steal at the Last Call outlet. They happened to have silver strappy Manolos in my size without a flaw. The final price ended up being $195 (retail $565 or so). Just remember that deals like this are not always available at Last Call. Prices are always great, but the good shoes always get snapped up really quickly. I got really lucky this time. Another option is to check the sales at the Neiman Marcus in Beverly Hills, as when they have shoe sales, they tend to be pretty good (a few hundred off).

eBay – Garter. Highly Recommend. I knew I wanted a Texas garter, and couldn't find one that I liked exactly on eBay at first, even though a ton of sellers offer sports garters. I ended up creating a "Want it Now" posting, and got several responses from prospective sellers quickly, and had my choice of style and price because of it.

MW Tux – Tuxedos. Highly Recommend. We are got all tuxedos from the MW Tux on Wilshire in Beverly Hills. The guys all wore the modern cut Tommy Hilfiger tux. The vests for the guys were "Prime Time" satin. My husband's tie and vest was all black and the rest of the guys' ties and vests were silver to match the bridesmaid dresses. Nik was happy with the experience because they allowed him to go smaller on the chest (didn't try to convince him otherwise) so he could have the nice slim fit he desired, and because they called him a few times to update him on the status of our guys' sizing.
Stationery:

Cards and Gifts by Lenore (eBay seller)
– Will You Be My Bridesmaid/Man of Honor Cards. Highly Recommend. Since I had a Man of Honor, I was unable to find a pre-made package of cards that would suit my needs, so I contacted this eBay seller. She created a custom package for me and I could even customize the dress colors (on her regular eBay store she offers every color scheme imaginable).
Magnet Street
– Save the Dates. Highly Recommend. I got a fantastic deal on my Save the Date magnets on-line. They were very responsive to questions regarding the order, and very helpful in making changes to the design and fonts after I reviewed the proofs. They also produced and shipped pretty quickly.
Paper Source
– Invitations. Highly Recommend. We ordered our letterpress invitations from Paper Source. We are in love with them, and couldn't be happier. The person who helped is in the store was both incredibly patient and helpful. We spent a lot of time together to make sure the whole package was perfect. She even took some time afterwards to coach us on one of my DIY projects for my place cards. After the order was placed the proofs came in very quickly, and the folks online made my requested changes accurately and immediately.
Calligrapher:

Pretty Pen Jen (website no longer active). Highly Recommend. We were very happy to have found Jennifer Cota for our calligrapher. She came well reviewed by other brides on The Knot, and her prices are extremely competitive. Her customer service was great, as she responds to email quickly and has answers for all of our crazy questions. She sent us samples that included a custom combo of two different fonts (which we decided to use), which are still in her Price One category. She was also very mindful of our timing when she did our escort cards, and even helped us with a last minute change with no problem at all.
Gifts and Favors:
Felicia's Fancies
– Gifts for Parents. Highly Recommend. These were the best prices I could find for embroidered hankies, and they ship really quickly and maintain great communication about order status. They included these sweet sayings:
Mother of the bride: To dry your tears as you've always dried mine

Father of the bride: Your little girl is all grown up and has found a love so true, but a special place in my heart will always belong to you

Mother of the groom: Thank you for raising your son to be the man of my dreams
Marc by Marc Jacobs
– Gifts for Bridal Attendants. Highly Recommend. My friends and I are total fashion slaves and label whores, so they just loved this M by MJ tote (which was only about $15 at the M by MJ store on Melrose)! I filled them with little goodies (also very cheap at the same boutique), and they were a big hit. Of course I had to by a tote for myself too ;).
See's Candies
– Favors. Highly Recommend. I always recommend edible favors, so we decided that this was the way to go to both please our guests and not break the bank. We decided on truffles from See's since they are a California-based company (so that our out-of-town guests could experience something they may not get to have all the time), and since you can get a pound (20-24 pieces) for around $18.00. We decided on 6 flavors we liked, bought them in bulk, and boxed them ourselves. They were so delicious that guests were scouting for extra boxes on the tables at the end of the night.
The Cottage Store (eBay seller)
– Favors Boxes. Highly Recommend. Never, ever, ever buy favor boxes anywhere but eBay. The 2″x2″ white favor boxes we purchased ended up being $0.20 a piece!
DIY
Since it was hard for me to find a few stationery pieces exactly as I wanted them, I decided to take on a few DIY projects. First, I made my own place cards/escort cards with a stamp and embossing powder from Paper Source. Here are my embossed escort cards (while the work was in progress). It is hard to tell from these pics, but the pattern is gorgeous shiny black and raised: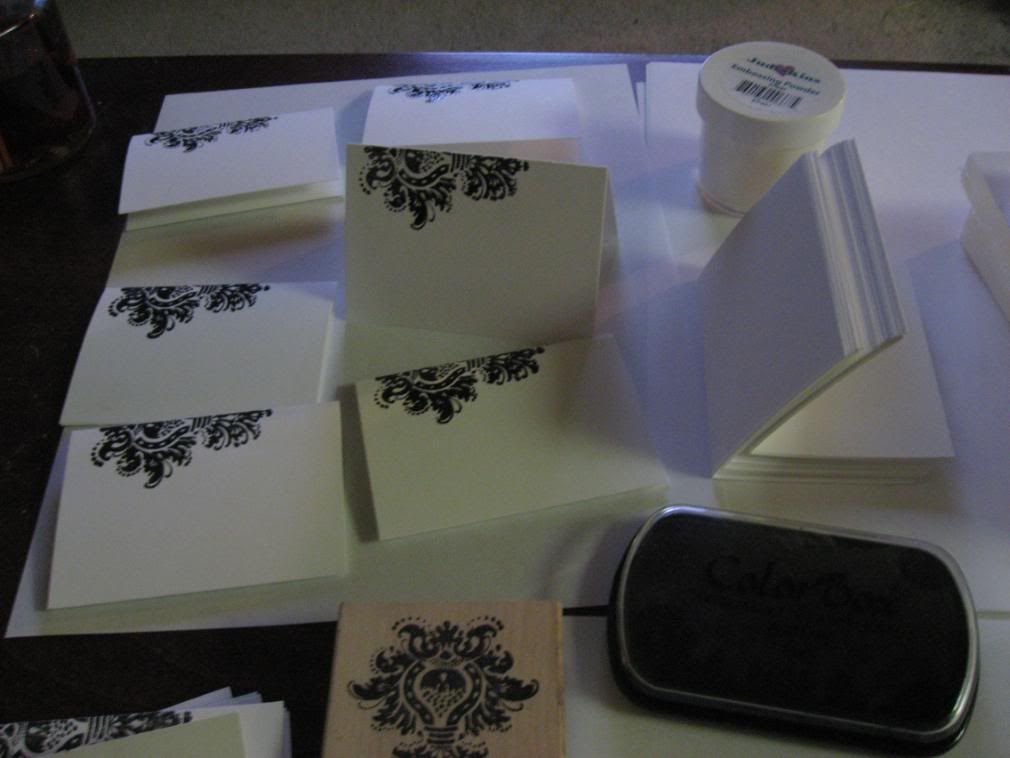 I also DIYed my table numbers (with some help from Dad and his shop). I spray-painting wooden numbers from Michael's (very cheap) with black paint. The effect ended up looking like little wrought iron numbers that will stand free. The pics below show the work in progress then an example of a few of the final products. The numbers had to be sanded down smoothly and primed before spray-painting so that the wood grain didn't show through:

The card box was a simple idea – we just wrapped a box with wrapping paper and added a ribbon.

Since I love my new embossing tool so much, I embossed our monogram logo in black onto white cocktail napkins for the passed hors d'eouvres and cocktails. I ordered a custom stamp from Simon's Stamps. Here is a pic of the project in process (you can't tell from the pic, but the black is glossy and raised):
Misc. DIY (one of my guestbook pens and examples of some of the jeweled picture frames I used for memorial pictures at the guestbook table):
Misc.:

Shutterfly – Guestbook. Highly Recommend. We loved our guestbook so much, and now use the guestbook (full of signatures and sweet notes from our wedding guests) as an engagement picture album.

Gobo Man – Custom Gobo. Highly Recommend. This was the cheapest price for a custom gobo I could find online. The customer service is friendly (they seemed to care about making our gobo perfect, and to ensure it arrived on time for our special day) and they respond quickly. They also fixed errors in the proof quickly and accurately.
Simon's Stamps – Custom Stamp. Highly Recommend. It was quick, cheap, and easy to make stamps of our monogram! What more could you ask for?
eFavorMart – Ribbons. Highly Recommend. I found this site online and was surprised by the great deals on large quantities of ribbon. The ribbons are also of high quality (no fraying), and they ship quickly.
BBJ Linens – Linen Rentals. Highly Recommend. Calamigos includes basic linens in their pricing, but we wanted satin napkins, so we rented from BBJ. They have great customer service, great prices, and had such an easy process of shipment for the delivery and return of items so you don't have to deal with pick-up and drop-off fees. They also have pretty much any type of linen you could imagine.
Misc. Wedding Printables and Resource Documents