I was provided with a review copy of Abominable. The opinions are my own. I was not financially compensated for this post.
Have you seen the movie Abominable yet? Our family LOVES this one! To celebrate its release on 4K Ultra HD, Blu-Ray, DVD and On Demand today, I'm sharing a fun and easy recipe for Everest Snowballs. These festive cake balls are kid-friendly (and easy enough that your kiddos can help you make it), and perfect for an Abominable watch party or themed birthday party. If you're in love with the lovable yeti Everest as much as we are, you'll want to check out the Everest Snowballs recipe at the bottom of this post, along with some other activities and recipes for an Abominable yeti-themed party.
Glenn Kenny of The New York Times called Abominable "an epic, colorful journey home. Beautiful and exhilarating to behold." Now Yi, Everest, and the gang can come home with you just in time for the holidays with the release of the DVD and Blu-Ray today. The 4K Ultra HD, Blu-Ray, DVD, and Digital versions feature tons of fun bonus content including two original shorts, deleted scenes, and activities for the entire family to enjoy (see more on these bonus features below).
The magical journey is brought to life with the voice talents of Chloe Bennet ("Marvel's Agents of S.H.I.E.L.D"), Golden Globe® and Emmy® Award winner Sarah Paulson ("American Horror Story"), Eddie Izzard (Cars 2), Tenzing Norgay Trainor ("Liv and Maddie"), Albert Tsai ("Fresh Off the Boat"), Tsai Chin (The Joy Luck Club), and Michelle Wong ("Scandal"). It is written and directed by Jill Culton (Open Season, Toy Story 2, Monsters, Inc.) and co-directed by Todd Wilderman (Open Season 2).
From the same studio that brought you How to Train Your Dragon (click here to get my easy ideas for a How to Train Your Dragon party), Abominable is a heartwarming and humorous story that follows teenage Yi as she encounters a young Yeti on the roof of her apartment building in China. Yi and her mischievous friends, Jin and Peng, name him "Everest" and embark on an epic quest to reunite the magical creature with his family at the highest point on Earth. But the trio of friends will have to stay one-step ahead of Burnish, a wealthy man intent on capturing a Yeti, and zoologist Dr. Zara to help Everest get home. The film is lovely both visually and for the heart, and truly enjoyable for all ages.
BONUS FEATURES on Abominable 4K Ultra Hd, BLU-RAYTM, DVD and digital:
DREAMWORKS SHORT – MAROONED
SHOW AND TELL – Back home in the Himalayan Mountains, Everest puts on a magical show-and-tell for his fellow yetis after he receives a special care package from Yin, Jing and Peng.
DELETED SCENES
MAKING A MYTH (MOVIE) – In this entertaining 'making of' we learn from the filmmakers and stars how they brought the heartfelt and whimsical story of Abominable to life – from the use of magic, music and humor, to the themes of family and nature.
ANIMATING ABOMINABLE – From production design to storyboarding and animating, the creative team behind Abominable will take us through the design and animation of the film.
MEET THE CAST – This fun featurette introduces the audience to the cast of Abominable and the characters they play. Learn first-hand from the actors what their personal inspiration was for the role and how they went about performing the voicework.
YOUR YETI CARE GUIDE – Chloe, Albert and Tenzing provide tips and tricks to caring for your newly adopted "Yeti". In this case YETI stands for pet – dog, kitten and bird.
COURAGE TO DREAM – This featurette explores the character Yi, the strong, independent and untraditional female lead at the center of Abominable. Actor Chloe Bennet and the filmmakers discuss what makes Yi special and why she is the ultimate role model for young girls and boys today!
AN ABOMINABLE TOUR WITH CHLOE BENNET – Like her father before her, Yi dreams of travelling across China to see the many beautiful, natural and culturally significant locations featured in Abominable. Chloe Bennet, the voice of Yi, will take viewers on their own magical journey.
EVEREST'S TALK BOX – Shooting on the DreamWorks Animation campus, we bring in some real kids to meet the man behind the voice of Everest, Joe Izzo, and the audio team from Abominable to learn about all the cool tech that went into Everest's voice.
COOKING WITH NAI NAI – Can Tsai Chin, the voice of Nai Nai, learn to make Nai Nai's famous pork buns in real life? Let's find out!
HOW TO ABOMINABLE – Bring Everest, Yi and Nai Nai to life in your home with this How-to-Draw with a difference. Not only will we show you how to recreate your favorite characters from Abominable, but also how to magically bring them to life through a homemade Chinese style lantern!
YOU CAN SPEAK YETI-ESE – Inspired by foreign language courses, viewers can learn how to speak Yeti-ese with these easy teaching guides hosted by Chloe Bennet.
NAI NAI SAYS – Narrated by Nai Nai, Yi's wise grandma gives us life lessons on how to be a strong, independent, modern woman.
FEATURE COMMENTARY – Writer/Director Jill Culton, Co-Director Todd Wilderman, Producer Suzanne Buirgy, Producer Peilin Chou, Production Designer Max Boas, Visual Effects Supervisor Mark Edwards, and Head of Character Animation John Hill
It's so easy to make your Abominable movie night a little more festive with my Everest Snowballs recipe and these other resources!
Free downloadable party kit for an Abominable movie night or birthday party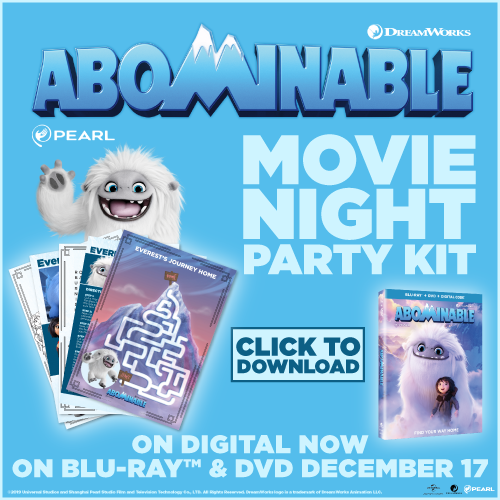 Upgrade your Abominable movie night with this awesome party kit filled with tons of downloadable activities, coloring sheets, and more! Click the button above to download the kit for your Abominable movie watch or birthday party for free!
Food ideas for an Abominable-themed birthday or watch party
Looking to cook something fun and unique for your Abominable watch or birthday party? Check out these amazing Abominable Bao recipes from Top Chef 's Chef Shirley Chung herself! Click the button above to get the recipes.
Everest Snowballs recipe – great for an Abominable-themed party
This recipe for Everest Snowballs is SO easy. It starts off with a basic cake balls recipe using boxed cake mix and prepared frosting. My kids were even able to help make it, and had fun doing so!
Ingredients:
1 box white or vanilla cake mix
Water (per the cake mix recipe)
Vegetable oil (per the cake mix recipe)
Eggs (per the cake mix recipe)
1 1/2 containers prepared white frosting, separated
2 drops neon blue food coloring
1 7 oz. package coconut flakes
Directions:
Prepare the boxed cake mix with water, vegetable oil, and eggs per package directions, then let cool completely.
After the cake has cooled, break it into pieces and transfer to a large mixing bowl. Break the cake up into small crumbs.
Add half of one of the containers of frosting to the cake crumbs and mix thoroughly. You won't need the other half of the container of frosting, so feel free to save it in your fridge for future use (it's a great addition to waffles or biscuits).
Form the cake mixture into 1 1/2″ balls and set on a plate lined with wax paper. Place the plate in the freezer for 30 minutes to set the cake balls.
While the cake balls are setting, put the contents of the second full container of frosting in a bowl in the microwave to melt it until it is runny. Stir in 2 drops of neon blue food coloring (this will give it an Everest-esque blue snow color).
Place coconut flakes in a separate bowl.
Roll the cake balls into the melted blue frosting, then into the coconut flakes, and set onto a clean piece of wax paper. Allow to cool at room temperature until the frosting sets.
See, easy! Pin this post to save this recipe for your own Abominable Everest or yeti-themed party, and be sure to pick up a copy of Abominable on 4K Ultra HD, Blu-Ray, DVD or Digital today.